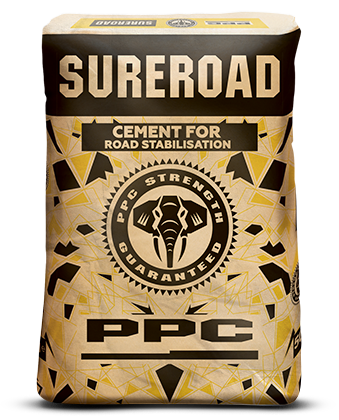 SUREROAD
32,5N ROAD CONSTRUCTION
Product is manufactured with the addition of an extender or blend of extenders (fly-ash, blastfurnace slag and limestone). The mineral constituents are carefully selected and the composition optimised to produce an excellent road-stabilisation cement.
Handling & Safety
MSDS Cementitious Materials Safety
Download
Data Sheet
PPC SUREROAD Datasheet 2020
Download
Applications 
PPC SUREROAD 32,5 cement has been performance engineered to improve the engineering properties of soil by: 
Reducing the plasticity index (PI);

 

Improving the Unconfined Compressive Strength (UCS) and Indirect Tensile Strength (ITS) of the host materials;

 

Enhancing durability and achieving superior performance with most road materials.

 
Performance testing shows excellent performance with soil classes G5 and G6, and for road strength classes C3 and C4.  
 
To determine the optimum cement type and cement addition rate with site-specific soils, the UCS (MPa) and ITS (MPa) should be tested for a range of cement addition rates. 
Specifications 
SUREROAD is manufactured to conform to SANS 50197-1 for Common Cements, in the 32,5 N strength class and is available as a CEM II Portland-composite cement, extended with siliceous fly ash (V), blastfurnace slag, (S) and/or limestone (L). 
Storage of Bagged Cement 
Cement should be stored in a weather proof shed or container

 

It should be closely packed, away from doors and windows

 

It should be packed off the floor, and on plastic

 

It should be covered with a plastic sheet or tarpaulin

 

It should be stored so as to ensure "first in - first out" use

 
Safety 
Do not stack bags more than 12 units high

 

Do not stack more than two pallets high

 

Pick up bags correctly to avoid injury

 

Avoid contact with eyes, skin and clothing. Cement and cement paste are highly alkaline and chemical burns may occur

 
For more advice on cement contact PPC on 08000 236 368- SA only.