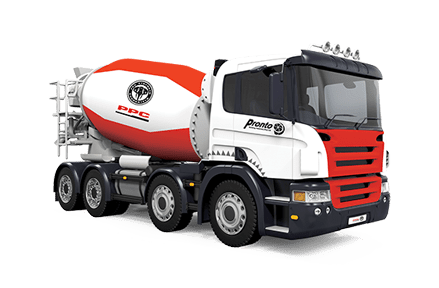 Readymix Concrete
A wide range of concrete products
PPC offers a wide range of concrete products. Our mixes can be designed to customer specifications.
Regular Concrete mixes, ranging from 05mpa to 45mpa
Mixes designed for everyday application over a wide range of construction elements.
Foundations, Floors, Columns, Beams and Walls.
Pumpable Concrete Mixes, ranging from 20MPA to 45MPA
Pump Mixes designed for everyday application over a wide range of construction elements.
Suspended Slabs, Large Floors.
SURE-FIBRE (Fibre Concrete)
Low shrinkage concrete with added Monofilament 12mm Polypropylene Fibre.
To reduce plastic shrinkage cracks, the recommended uses is for floors, Shotcrete and Precast applications.
SURE-POST TENSION
Concrete Early Strength - This is accordance to the customer's strength requirements in a certain time period.
Precast, building construction using formwork involving post tensioning slabs.
SURE-EARLY STRENGTH
Concrete Early Strength - This is accordance to the customers requirements.
To obtain early strength characteristics for site specific projects when an accelerated schedule is required.
Ready-mix Plaster
A quality premix designed to achieve a good consistent quality finish.
Designed for demanding applications of both internal and external plastering.
Previous No Fine concrete(NPF)
A high no fines concrete mix with high drainage ability and compressive strenghts of up to 15MPa.
SURE-SCC (Self-Compacting Concrete)
It's is a specialized mix with high fluidity and non-segregation characteristics, which spreads into place with no need of vibration compaction.
Pre-cast products, Shafts, Columns and Off Shutter finishes.
SURE-SURFACE BED
High strength, low shrinkage concrete for floors.
Industrial/Warehouse Floors with very low tolerances.
SURE-SUSPENDED SLAB
High strength, low shrinkage concrete that can be pumped.
Colour concrete
An exciting concrete mix, pigment treated concrete to achieve decorative, natural colour distributed throughout the concrete, adding a new dimension to your home or building.
Exposed Concrete
An exciting concrete mix with exposed aggregates that appear during the finishing process. Unique combinations provide added flair to the slip-resistant finish.
For outdoor use on projects like driveways, walkways, and patios.
Polish Concrete
An exciting concrete that offers a smooth, flat and glossy finish. Slip-resistant as well as aesthetically pleasing.
The Polish mixes is both durable and easy to maintain. This innovative product is suitable for indoor and outdoor use.
No fines concrete(NFC)
A material economic mix containing no sand only made up of coarse aggregates, cement, admixture and water, guarantee good thermal insulation.
Used for load bearing cast-in-place external walls of single and multi-storey housing.
Ready-mix Screeds
Ready-mix Concrete screed mixes designed to minimize shrinkage and curling while using high quality materials.
Correcting floor levels in houses, offices and specialized screeds for factories (upon request).
SURE-STEEL FIBRE
The use of Steel fibres results in durable concrete with a high flexural and fatigue flexural strength, improved abrasion, spalling and impact resistance.
Industrial floors, hardwearing surfaces.
Ready-mix Retarded mortar
Ready-mix Mortar (Class I or Class II) that can be retarded for 8, 16 and up to 24 hours. This allows the contractor to schedule deliveries and building teams according to their timeframes on site, while increasing consistency and quality and reducing wastage.
Building non-structural and structural, load bearing walls.
Our Plants
Mpumalanga (Sales/Production)
North West (Sales/Production)