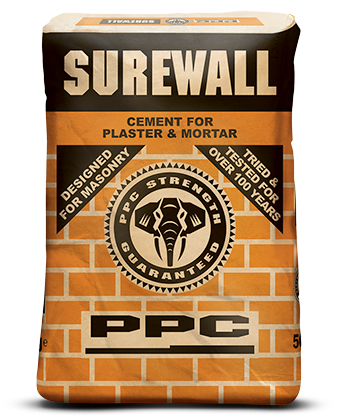 Applications
SUREWALL masonry cement is ideal for mortar and plaster applications and improves the following properties of fresh mortar and plaster:
Workability
Cohesiveness
Water retention
In hardened plaster, it reduces cracking and crazing and improves the surface finish.
NOTE:
DO NOT USE FOR CONCRETE APPLICATIONS.
Specifications
SUREWALL complies with the 22,5 strength class of SANS 50413-1 for masonry cements and is identified as:
Where "MC" denotes Masonry Cement, "22,5" denotes the 22,5 MPa strength class, and "X" denotes that the product does not contain an air-entraining agent.
Storage
Cement bags are not weatherproof and should be stored under cover, off the ground, on raised timber platform or on plastic sheeting to protect against rising dampness.
Bags should be stacked to a maximum height of 12 bags or two pallets. Usage of bags should be first in first out.
Cement should be stored in a weatherproof shed or container 
It should be closely packed, away from doors and windows 
It should be packed off the floor, and on plastic 
It should be covered with a plastic sheet or tarpaulin 
It should be stored so as to ensure "first in - first out" use 
Safety 
Do not stack bags more than 12 units high 
Do not stack more than two pallets high 
Pick up bags correctly to avoid injury 
Avoid contact with eyes, skin and clothing. Cement and cement paste are highly alkaline and chemical burns may occur 
For more advice on cement contact PPC on 08000 236 368- SA only.