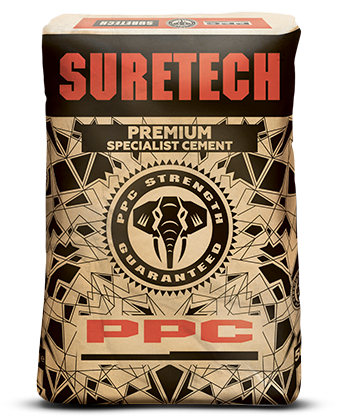 Applications 
SURETECH has been formulated to enable versatility in producing cost-effective high-end concrete and concrete products. It is ideally suited for blending with extenders such as fly ash (FA) and ground granulated blast furnace slag (GGBS) and silica fume (CSF). 

It is ideal for high performance Precast, RMC, Civil, Building, Speciality and Proprietary products. Applications include concrete, grouts, precast products, shotcrete, masonry products specialist and proprietary application

 
Specifications 
SURETECH conforms to the 52,5 N strength class of SANS 50197-1 for common cements and, depending on source factory, is identified as: 
Portland Cement CEM I 52,5 N

 

Portland Composite Cement CEM II/A-S 52,5 N

 
"CEM I" denotes the addition of between 0 and 5% minor addition constituent."CEM II/A-S" denotes the addition of between 6 and 20% GGCS extender. 
Storage of Bagged Cement 
Cement should be stored in a weatherproof shed or container

 

It should be closely packed, away from doors and windows

 

It should be packed off the floor, and on plastic

 

It should be covered with a plastic sheet or tarpaulin

 

It should be stored so as to ensure "first in - first out" use

 
Safety 
Do not stack bags more than 12 units high

 

Do not stack more than two pallets high

 

Pick up bags correctly to avoid injury

 

Avoid contact with eyes, skin and clothing. Cement and cement paste are highly alkaline and chemical burns may occur

 
For more advice on cement contact PPC on 08000 236 368- SA only.